Swinomish Casino & Lodge Team Members
We will post updates here as well as our Team Member Facebook Page and send SMS Message alerts.
To opt in to SMS Messages
Text JOIN to 360-777-7699
0:26 0:03 / 0:26 Team Member SMS Messaging Alerts
UPDATE: May 16, 2020 | 1:00pm
Dear Team Members!
Exciting news, casinos and other businesses are slowly opening throughout the State and the Country! The COVID- 19 Management Team has been working closely with leaders of the Swinomish Tribe and the Tribe's Public Health Officer to determine an appropriate date to reopen the Casino & Lodge. The Casino has put together a very thorough reopening plan and coined the term "Swin Clean" to describe our cleaning protocols. I am excited to tell you that the Tribal Senate approved reopening the Casino & Lodge the week of May 25th. The dates and details of the reopening are being finalized and will be communicated as soon as they are available. We appreciate your patience while we finalize operational details, a member of the COVID-19 Management team will contact those needed for Stage 1 reopening. Again thank you for your patience.
In an effort to keep team members and guests safe, the Casino & Lodge will not open all amenities on the first day and there is not an exact timeline for when other areas will reopen. The initial reopening stage will include a portion of the slot machines, select restaurants, and limited lodge rooms. Also initially we will not be operating 24 hours a day. Based on the partial reopening and limited hours of operation not all team members will be required for the first stage.
As you have likely experienced at the grocery store, numerous changes have been made for the safety of team members and guests. We have made similar changes. The changes at Casino and Lodge are too expansive to list in this letter, but here are a few of key highlights:
Masks will be required for team members and guests with exception of when they are eating, drinking or smoking.
Temperature checks will be done on all guests and team members prior to entering the building.
Hand sanitizer stations, stanchions, and instructional signage have been added throughout the property.
Before returning to work, team members will be required to:
Complete an online COVID-19 training. A separate communication will be sent to you with details of how, where and when to complete the training.
Meet with your director/manager for an updated orientation. The reorientation will be done at the Casino prior to your first day back to work, those required to attend will be contacted with details.
As an added safety measure the Casino & Lodge are working with the Tribe's Public Health Officer to put in place a process for all team members to be tested for COVID 19, if you do not have insurance there funding available to cover the costs. We are hopeful the tests can be completed prior to your return to work, but there are numerous details to finalize. Once the process is finalized you will be notified.
A video starring your favorite managers and directors is in production. The purpose of the video is to show some of the safety measures and new procedures we have put in place. I don't believe there will be any lions or tigers in the video, but maybe a dog or two. Don't expect any performances worthy of an Oscar, but rather a somewhat funny and informative narrative of what to expect on your first day back.
We look forward to welcoming you and our guests back to the property.
Brock Hochsprung
Chief Executive Officer
UPDATE: April 24, 2020 | 12:00pm
Good news! Swinomish Casino & Lodge will pay for team members' costs of premiums for medical, dental, and vision coverage for the month of May.
You will be responsible for your dependents' medical, dental, and vision premiums. If you have any other coverage such as Voluntary Life, AD&D, Group Accident, Critical Illness and Whole Life Insurance, you will also be responsible for these additional premiums for you and your dependents.
Another notification will be sent out on how to pay those premiums, in which you are responsible for. Meanwhile, rest assured that you and your dependents' health and other benefits are covered for the month of May.
Take care and stay safe!
Swinomish Casino & Lodge Management
UPDATE: April 3, 2020 | 3:00pm
Employment Update
As you know, on March 17, 2020, the Swinomish Casino & Lodge temporarily closed its doors to the public as a result of the COVID-19 pandemic. This closure has had a serious financial impact on both the Casino and the Swinomish Tribe. As a result of these financial impacts, we find that we must make some difficult personnel decisions involving our valued team members.
Effective April 5, 2020 we will be temporarily placing most of our team members on furlough status.
This notice is to inform you that your position is included in this furlough. You are being placed on a temporary, unpaid leave of absence effective April 5, 2020.
The Casino and Tribe generously paid all team members through April 5th. For unemployment purposes your date of separation is April 5th. Any unemployment benefits calculated based on a separation date prior to April 5th will be contested by the Casino.
As a furloughed team member, you may apply for unemployment benefits on "standby" status. We encourage you to apply for unemployment benefits on or after April 5th. You should apply online at https://secure.esd.wa.gov/home/. We are providing you with sample screenshots from the unemployment website, a list of information you'll need to gather before you apply, and instructions for how to use the online portal.
Furloughed team members will:
Retain your original date of hire and rate of pay, once you return to work.
Retain your banked flex time balance, which will be available to you once you return to work.
Maintain coverage of your health benefits on the Casino's benefit plan, and retain the ability to continue to pay for your dependents through April.
Unfortunately, due to the economic impacts of the COVID-19 pandemic quarterly incentive benefits will be suspended until further notice.
Swinomish Casino and Lodge will communicate with you regularly during this period. If your personal phone number, email or mailing address has changed recently, please provide your current contact information to Human Resources immediately.
Please feel free to contact us at teammemberassistance@swinomishcasino.com with any questions.
It is important to note that your employment continues to be at-will and nothing in this notice or other furlough communications is intended as an express or implied contract.
If you find alternate employment during this period and do not intend to return to work at Swinomish Casino & Lodge, please notify human resources immediately of your voluntary resignation.
Please be safe, healthy, and help stop the spread of the Coronavirus.
Brock Hochsprung
Chief Executive Officer
unemployment options
unemployment checklist
UPDATE: March 27, 2020 | 5:30pm
On March 25th, the Tribe passed a Stay at Home resolution closing all businesses except for those designated as "essential," and requiring all residents of the Swinomish Reservation to stay home for a period of two weeks. Governor Inslee also issued a similar "Stay Home – Stay Healthy" proclamation applicable to all businesses and residents off the Reservation. Governor Inslee communicated with tribes shortly before he publicly issued his order and acknowledged that his order does not apply to tribes or Indian reservations, and asked Tribal governments to partner with him and issue similar orders. The Swinomish tribal government exercised its sovereignty to protect the Swinomish community, enterprises, employees and residents in a way that complements Governor Inslee's action.
Based on the Tribe's resolution, the closure of Swinomish Casino & Lodge has been extended through April 8th. We will continue to evaluate the situation and inform you once we have an exact opening date.
In an effort to provide continuous support to our valued team members, Swinomish Casino & Lodge Management and the Tribe decided the following:
The emergency (COVID-19) pay is extended through Sunday, April 5, 2020 based on the same criteria from the last pay period.
If you are a Full-Time employee and your average hours were less than 40 hours a week, Payroll will automatically add additional hours using your available Flex Time Off (FTO) or Non-Cashable Flex hours to bring your total to 80 hours per pay period.
No FTO will accrue from the emergency pay.
A team members' deduction for their personal medical insurance coverage for the month of April will be waived. Deductions will still be made for dependent coverage.
For our Part-Time and On-Call team members, the Washington Apple Health special enrollment period is now available through April 8, 2020 to qualified individuals who are uninsured.
Please see information below.
Online: Go to www.wahealthplanfinder.org and select "Apply Now" button.
Mobile app: Download the WAPlanfinder app to create an account and apply for coverage.
Phone: Call Washington Healthplanfinder Customer Support Center at 1.855.923.4633.
Swinomish Casino & Lodge Management is working to understand this ever-changing landscape and find the best solutions. We appreciate your patience as we work to find the answers to your questions. We want you to know that the safety and health of our team members and guests is always our top priority, and we thank you for your understanding during this difficult time.
If you have further questions, please email teammemberassistance@swinomishcasino.com. We will send you updates as they unfold.
Stay safe, stay healthy, and stay home if you can.
Brock Hochsprung
Chief Executive Officer
UPDATE: March 24, 2020 | 1:30pm
Dear Team,
First, I want to express my gratitude for each and every one of you. Also I hope that all of you and your families are healthy, staying safe and managing as best as possible during these difficult times.
When we announced the temporary closure of operations, we referenced emergency pay for team members but the details had not been clearly defined. In recent days, I have worked with members of the management team and representatives of the Tribe to define the parameters for emergency pay. The criteria are as follows:
1. All hourly and salaried team members currently available to work will receive emergency pay, coded as COVID on the check stubs.
2a. If a team member continued to report for work, they will receive regular pay for hours worked.
2b. If a team member was not able to work due to the facility closure, they will receive emergency pay.
3. The number of hours of emergency pay received will be based on the average hours you were paid for payrolls in 2020.
a. Maximum paid will be 40 hours per week.
b. Used flex hours (FTO), paid jury duty hours, bereavement leave and paid holidays are also included as hours worked in the average hours calculation.
c. If you are a recently hired team member, the average hours will be calculated from your hire date.
4. Emergency pay is based on your base wage rate.
5. The first portion of the emergency pay (3/17-3/22) will be included as part of the regular scheduled pay period ending on Sunday, 3/22. The second portion of emergency pay (3/23-3/31) will be included in the next pay period.
6. Deductions for taxes, 401k, medical benefits, garnishment, etc. will be processed as usual.
For those hourly team members who worked on Tuesday 3/17 as part of the shutdown process and those who continue to work through 3/31, your emergency pay hours will be categorized as "Non-Cashable Flex Time". This is a new category of leave. These Non-Cashable Flex hours will be available for you to use as leave in future pay periods. These hours would be used before flex time off (FTO) hours and are not available for cash out. Non-Cashable Flex hours will not display on your paystub, but will be visible in the leave Paid Time Off Section of the ESS system. You will need to choose Non-cashable Flex or Flex when reviewing in ESS.
Payroll and HR are working with departments to process this unique payroll. If we are able to complete the process early, we will release the funds via direct deposit or rapid pay cards a few days early. I hope the above information addresses your questions regarding emergency pay. I realize that there are even more questions regarding when we will be able to resume operations and if we are closed for an extended period of time what that means for pay and benefits. Unfortunately, my best answer at this point in time is that Casino Management has been working closely with the Tribe to develop a plan. Once a plan is developed, we will communicate it to each of you.
If you have questions, please send them to teammemberassistance@swinomishcasino.com
Please be safe and help stop the spread of the Coronavirus.
Brock Hochsprung
Chief Executive Officer
UPDATE: March 20, 2020 | 12PM
We've added a library of virtual games for team members to play for fun. Check out swinomi.sh/SwinGames and tell us what you think of the games. Your feedback will be helpful in determining what games we will offer to guests in the future.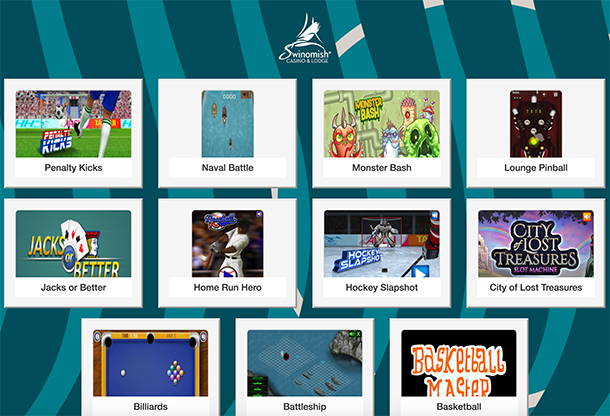 UPDATE: March 18, 2020 | 11:30AM
Message from Swinomish Casino & Lodge
Swinomish Tribe Temporarily Closes Casino Through the End of March Anacortes, WA (March 17, 2020) –
In order to protect the health and safety of our guests and team members from the spread of COVID-19 virus, The Swinomish Tribe has temporarily closed the Swinomish Casino & Lodge to the public effective Tuesday, March 17, 2020 through March 31, 2020.
The Swinomish tribal government and Casino management will reassessed the situation after the two –week closure. The Casino & Lodge is a major employer in Skagit County.
The Swinomish Senate has declared a Public Health Emergency and is meeting daily to assess the evolving situation. The Tribe places a high priority on protecting our tribal members, Casino guests, team members, and their families.
During this closure all casino promotions, offers, and drawings will be suspended. We look forward to the opportunity to honor your March offers, when we reopen.
Please Note: Our property has not experienced an exposure; this is solely a precautionary closure to protect our community and team members. We will, however, be conducting a full property sanitization multiple times throughout the closure.
Please continue to stay safe, and we look forward to seeing you all soon. Updates will be posted here as well as on our Facebook page here: Swinomi.sh/Facebook.
"Now is the time when our Swinomish core values matter the most," said Steve Edwards, Chairman of Swinomish Tribal Senate. "This is a challenging time for all of us, and we are going to stand together."