With the dawn of a new decade only days away, all of us here at Swinomish Casino & Lodge have been spending some time reflecting on the past 10 years' growth and development. One of the most recent changes we've made during this period has been the extensive renovations we've done to our gaming floor. We are so excited to share the progress we have made with you as we take a look back at Swin Through the Decade one last time. We can't wait to see what the next 10 years will bring!
Since opening our doors in 1985, the Swinomish Indian Tribal Community has expanded the property from a quaint bingo hall into the Swinomish Casino & Lodge we know and love today.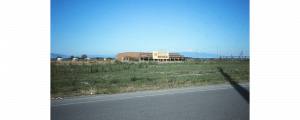 In September of 2016, we began our renovation project to expand the gaming floor, add new and exciting dining options for guests, and upgrade existing amenities. This huge revamp took nearly two years to complete and included the addition of the food court with Fatburger and Manchu WOK, our 24-hour Carver's Café, and an additional 18,000 square-foot of gaming space.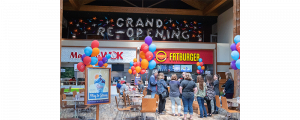 Today, our 24/7 gaming floor spans over 70,000 square feet and features over 900 of the latest and greatest slot machines, Blackjack, Craps, Roulette, Pai Gow, and Keno. Center Bar is now at the heart of the floor and includes 360-degree seating, so you'll never miss out on a second of the fun!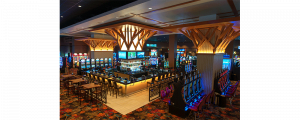 With these new additions also came some serious updates. A few of the major remodels included a new and improved Player's Club, cash cage, Keno area, and restrooms. Additionally, 10 Sports Bar, which we now know as Swinomish Sports Bar & Grill, underwent a complete redesign. Not only was the name changed, but the interior was entirely redecorated, the menu was revamped, and guests were able to further their sports entertainment experience with the inclusion of 34 HDTV's.
After much anticipation and hard work, the project finally came to an end in 2018! From March 11 to March 13, we hosted a grand reopening to unveil and celebrate our improvements with all of you. We kicked off the festivities that Friday with a ribbon-cutting and tribal blessing ceremony, a virtual game for guests to win fun prizes, and live music. The celebration continued over the weekend and included Grand Reopening Hot Seat Drawings, Play to Getaway Barrel Drawings, and even more amazing prizes and live music!
After the renovations were complete, King 5's New Day Northwest featured us in a segment and article all about the project! One of our general managers at the time, Dallas Widmark, and Chef A.J. Boulanger went on the morning show to discuss details of the process, introduce our new dining options, and show everyone at home how to make one of our popular dishes at the time, Honey Pecan Chicken. "It's basically a brand new, beautiful property that we're really proud of," said Widmark. "The project was to upgrade the facility for both our guests and our team members as well."
These improvements would not have been impossible without the continuous support of our guests! We are extremely grateful to have spent the last several decades with you all and are enthusiastic about what the future has in store for all of us. To celebrate our growth and get excited for what the next decade will bring, join us on New Year's Eve to experience an evening of Glitz, Glam & Game while ringing in the new Roaring '20s! Toast to the start of a new decade with exciting promotions all day and night, ranging from 10am to 1am, and win your share of $60,000! For more information regarding our Instant Hits, Play & Win Promotions, Prime Rib Special, and more, visit: swinomi.sh/NYE2020