 Carver's Café
Restaurant Hours
Daily
8am - 2am

*Serving food & drinks until 1am

*Parties of eight or more will be charged 20% gratuity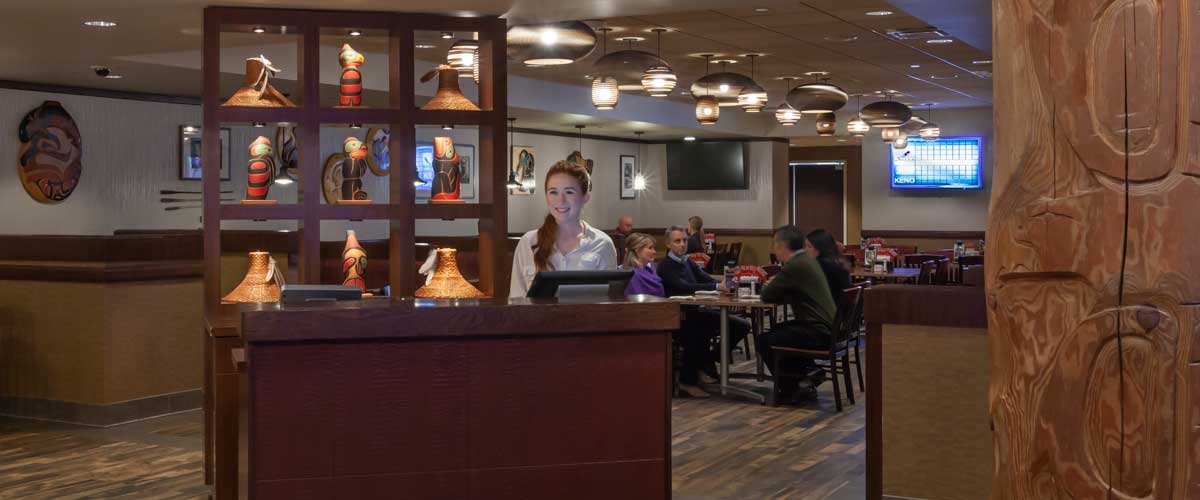 Find classic American cuisine at Carver's Café, which features historical Swinomish photos and décor hand-carved by Swinomish tribal members. Stop by any time of day for starters, soups, sandwiches, salads, burgers, classic entrées, breakfast and desserts.
Guests will enjoy a unique dining experience at Carver's Café. This delicious destination provides the perfect setting for guests who want to relax and connect over freshly prepared meals. Carver's Café is open daily from 8am to 2am, and offers breakfast, lunch and dinner that feature fresh, quality local ingredients with seasonal offerings and healthy options. Carver's interior décor showcases custom carved artwork by Swinomish artists, Kevin "Wa lee hub" Paul, Frank Campbell and Nakiya Edwards.
Ken Barnes – Carver's Café Room Chef

Ken Barnes has always loved food. He loves the way it brings people together and the lasting memories created around meals. Though food has been a lifelong passion, his professional culinary journey began in 2015. After burning out in other lines of work, Ken decided to follow his childhood dream of becoming a chef. His career in the Food & Beverage industry started at South Seattle College, where he received his culinary education. Over the years, Ken has sampled several roles in the world of food: he owned a Filipino pop-up restaurant, worked at Mama Melrose's Ristorante Italiano at Walt Disney World, created the menu for a brewery, and spent time at Navos, a café that provided job opportunities to adults with mental health issues. His breadth of experience and passion for learning new cuisines are two key ingredients in the recipe for the perfect Carver's Café Room Chef, the position that brought him to Swinomish Casino & Lodge in 2022. Ken loves the beautiful location and fantastic team members here, and he's finding new things to love every day!
Breakfast Menu
Breakfast
>
Biscuits & Gravy
$10.99
Two buttermilk biscuits topped with country sausage gravy
Two Eggs Your Way
$12.99
Two eggs any style served with hash browns, toast, and your choice of sausage, bacon, or ham
Gluten-free option available
Fried Egg Sandwich
$12.99
Two eggs any style, ham, and Swiss cheese on a croissant, served with fresh fruit
Eggs Benedict
$15.99
English muffin topped with ham, two eggs any style, and hollandaise sauce, served with hash browns
Steak & Eggs
$17.99
6-ounce chef's choice of steak grilled to order, served with two eggs any style, hash browns, and toast
Gluten-free option available
Chicken-Fried Steak
$15.99
The northwest's best chicken-fried steak, served with two eggs any style, sausage gravy, hash browns, and toast
French Toast
$11.99
Grilled Texas toast dipped in cinnamon vanilla custard and served golden brown
Jumbo Buttermilk Pancakes
$10.99
Served hot off the griddle with butter and maple syrup
Add strawberry topping
$2.99
Steel Cut Oatmeal
$8.99
Slow-cooked and served with cream, butter, brown sugar, and raisins
Swin Skillet
$14.99
Fried red potatoes, green peppers, onions, bacon, sausage, and ham, all scrambled together with eggs and topped with cheddar jack cheese
Breakfast Burrito
$13.99
Scrambled eggs, pico de gallo, hash browns, cheddar jack cheese, and your choice of ham, bacon, or sausage served in a flour tortilla with salsa and sour cream
Ham & Cheese Omelet
$14.99
Classic three-egg omelet with diced ham and cheddar jack cheese
South of the Border Omelet
$14.99
Three-egg omelet with seasoned ground beef, cheddar cheese, jalapeño, pico de gallo, sour cream, and salsa
Denver Omelet
$14.99
Classic three-egg omelet with diced ham, sautéed bell peppers, grilled onions, and cheddar jack cheese
Scrambles
All scrambles are served with hash browns and toast. Gluten-free option available.>
Florentine Scramble
$14.99
Three-egg scramble with spinach, bacon, tomato, and Swiss cheese
Western Scramble
$14.99
Three-egg scramble with ham, sautéed mushrooms, onion, green pepper, and cheddar jack cheese
Lunch/Dinner Menu
Cup of Soup & Half Sandwich
The following sandwiches are prepared with your choice of bread. >
Tuna Salad Sandwich
$12.99
Tuna, mayonnaise, lettuce, and sliced tomato
Roast Beef & Cheddar Sandwich
$12.99
Roast beef, cheddar cheese, lettuce, sliced tomato, and mayonnaise
Turkey & Swiss Sandwich
$12.99
Shaved turkey, Swiss cheese, lettuce, sliced tomato, and mayonnaise
Soups
>
Clam Chowder or Soup of the Day
Salads
>
Caesar Salad
$11.99
Romaine lettuce topped with croutons, Parmesan cheese, and creamy Caesar dressing
Gluten-free option available
Taco Salad
$15.99
Chopped romaine lettuce, diced tomato, seasoned ground beef, shredded cheddar jack cheese, sour cream, and avocado served in a flour tortilla bowl
Cobb Salad
$15.99
Chicken, romaine lettuce, smoked bacon, avocado, sliced hard-boiled eggs, Gorgonzola cheese, and diced tomato
Gluten-free option available
Chef Salad
$15.99
Chopped romaine lettuce, sliced ham, sliced turkey, shredded cheddar jack cheese, diced tomato, shredded carrots, hard-boiled egg, and croutons
Gluten-free option available
Sandwiches
The following sandwiches are served with your choice of french fries, coleslaw, or cottage cheese.>
BLT Overload
$11.99
Five slices of smoked bacon, lettuce, sliced tomato, and mayonnaise served on toasted egg bread
Gluten-free option available
Swinomish Melt
$12.99
Your choice of turkey or tuna with cheddar cheese served on grilled bread of your choice
Gluten-free option available
Turkey Avocado Croissant
$13.99
A flaky, fresh-baked croissant piled high with thinly sliced natural turkey breast, avocado, jack cheese, lettuce, tomato, and mayonnaise
Club Sandwich
$14.99
Smoked bacon, turkey breast, smoked ham, Swiss and cheddar cheeses, lettuce, sliced tomato, and mayonnaise stacked on three slices of toasted bread of your choice
French Dip
$14.99
Thinly sliced roast beef piled high on a French roll with rich, flavorful au jus
Reuben Sandwich
$15.99
Sliced corned beef, sauerkraut, Swiss cheese, and Thousand Island dressing served on grilled marbled rye bread
Gluten-free option available
Chicken Avocado Melt
$15.99
Grilled chicken breast, Swiss cheese, avocado, mayonnaise, lettuce, tomato, and onion
Quesadilla
$11.99
Flour tortillas filled with cheddar and jack cheeses, bacon, pico de gallo, avocado, and lime crema
Chicken Wings
Large wings deep-fried and mildly seasoned with our special blend of spices, served with dipping sauce
Burgers
All burgers are served on a pub bun with golden french fries. Gluten-free option available.>
Classic American Cheeseburger
$13.99
Charbroiled Angus beef patty, American cheese, lettuce, tomato, onion, and mayonnaise
Western Burger
$14.99
Charbroiled Angus beef patty, lettuce, tomato, onion, bacon, barbecue sauce, and crispy onions
Mushroom Swiss Burger
$14.99
Third-pound beef patty, sautéed mushrooms and onion, Swiss cheese, lettuce, tomato, red onion, and mayonnaise
Sides
>
Mashed Potatoes & Gravy
$4.49
Entrées
>
Chicken Strips
$16.99
Breaded chicken tenders deep-fried to a golden brown, served with coleslaw, french fries, and your choice of ranch, barbecue, or honey mustard dipping sauces
Shrimp Platter
$15.99
Succulent, breaded shrimp deep-fried to a golden brown, served with french fries and coleslaw
Chef Choice Steak
$21.99
Chef Choice Steak served with mashed potatoes and sautéed mixed vegetables
Fish & Chips
Beer-battered fish deep-fried to a golden brown, served with coleslaw, french fries, lemon, and tartar sauce
Hot Turkey Sandwich
$15.99
Thick-sliced roasted turkey served open-faced on toasted bread with cranberry sauce, homestyle mashed potatoes, gravy, and vegetables
Chicken-Fried Steak
$16.99
Two chicken-fried steaks smothered in country gravy, served with mashed potatoes and sautéed vegetables
Chicken Broccoli Alfredo
$17.99
Grilled chicken breast, broccoli florets, diced tomato, and linguine tossed in a creamy Parmesan Alfredo sauce
Shrimp Scampi
$18.88
Shrimp pan-fried in garlic-lemon butter and served on a bed of linguine, and topped with parmesan cheese
Prime Rib Dinner
Available on Fridays & Saturdays starting at 4pm, until it's all carved. Slowly roasted beef prime rib, cut at your desired temperature Served with a garden salad, mashed potatoes, and sautéed vegetables>
Queen Cut (10 oz.) $22.99
Desserts
>
Add Strawberry Topping
$1.99
Beverages
Wine, Beer, and Full Bar Available>
Small Juice
$3.49
Orange, apple, or cranberry
Large Juice
$4.49
Orange, apple, or cranberry
Hot & Cold Beverages
$2.99
Pepsi, Diet Pepsi, Mist Twst, Mountain Dew, Dr. Pepper, Iced Tea, Moka Joe Coffee, Hot Tea, Hot Chocolate
Complimentary Refills
Previous menu
Next menu