Swinomish Sports Bar & Grill
Bar Top Hours
Monday - Friday
4pm - 2am

Saturday & Sunday
11am - 2am
*Serving Carver's Café Menu until 4pm
Dining Hours
Sunday - Thursday
4pm - 10pm

Friday & Saturday
4pm - 12am
Happy Hour
Monday - Friday
4pm - 6pm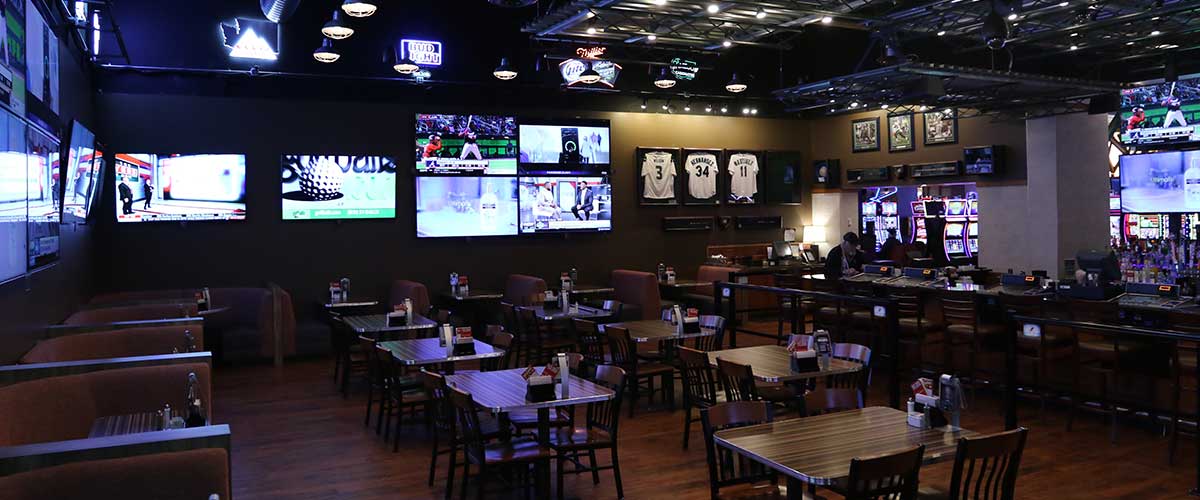 Located inside Swinomish Casino & Lodge on the waterfront of Anacortes, Washington, the Swinomish Sports Bar & Grill isn't like your average, run-of-the-mill sports-themed lounge. While most sports bars are sparse in design, the Swinomish Sports Bar & Grill feels like you've stepped right into an NFL stadium with an attached sleek, sophisticated bar. Bet by day and enjoy a chic lounge by night. Unwind with our locally inspired pub food menu and happy hour specials.
With the focus on screens and scores, the Swinomish Sports Bar & Grill features flat-screen televisions, and of course, a sports bar wouldn't be complete without a full bar specializing in microbrews.
Catch all of the action at the Swinomish Sports Bar & Grill because no matter where you sit you'll never miss a play and you can always count on great service and killer brews! Come in for a quick lunch, a couple beers, a fun night out, catch our happy hour, or spend all day eating, drinking and watching your favorite teams face off against their opponents; we have everything you could ask for in a Sports Bar.
Find the latest lines, watch the race, or grab a beer and grub as you watch every play, pass, and score at the Swinomish Sports Bar & Grill.
Sports Bar & Grill Menu
Starters
>
Nachos
$13.99
Seasoned ground beef or chicken, cheddar jack cheese, tomato, jalapeño, green onion, sour cream, and salsa on tortilla chips
Gluten-free
Bacon-Wrapped Prawns
$13.99
Glazed with bourbon barbecue sauce
Gluten-free
Lumpia
$11.99
Filipino-style egg roll with pork and vegetables, served with sweet chili sauce
Potato Skins
$9.99
Baked potato skin wedges topped with cheddar jack cheese, green onion, and bacon bits, served with sour cream and salsa
Gluten-free
Mozzarella Sticks
$12.99
House-battered mozzarella sticks served with marinara sauce
Jalapeño Cheese Bread
$10.99
Garlic cheese bread with jalapeño and bacon, served with marinara sauce
Calamari
$13.99
House-made fried calamari with lemon-garlic aioli
Chicken Wings
$13.99
Tossed in a sauce: Buffalo, Caribbean, honey barbecue, or garlic Parmesan
Dry-tossed: Lemon pepper, chili-lime Cajun, or jerk seasoning
Gluten-free
Salads
Gluten-free option available>
Garden Salad
$11.99
Mixed greens, carrot curls, julienned red onion and radish, sliced cucumber, cherry tomatoes, and croutons
Add blackened salmon
$9.99
Caesar Salad
$11.99
Romaine lettuce topped with croutons, Parmesan cheese, and creamy Caesar dressing
Add blackened salmon
$9.99
Northwest Cobb Salad
$13.99
Choice of chicken or grilled shrimp, romaine lettuce, smoked bacon, avocado, sliced hard-boiled eggs, Gorgonzola cheese, and diced tomato
Swin Classics
>
Grilled Salmon
$17.99
Fresh salmon served with lemon-garlic butter, roasted garlic mashed potatoes, and seasonal vegetables
Gluten-free
Fish & Chips - Bestseller!
Beer-battered fish deep-fried to a golden brown, served with coleslaw, french fries, lemon, and tartar sauce
Grilled Ribeye
$26.99
12-ounce ribeye steak topped with melted Gorgonzola butter and served with roasted garlic mashed potatoes and seasonal vegetables
Gluten-free
Pasta
All pasta dishes are served with garlic bread.>
Prime Rib Stroganoff
$16.99
Mushrooms, onion, garlic, prime rib, and fettuccine
Shrimp Diablo
$17.99
Shrimp, bacon, roasted red pepper, Alfredo sauce, and fettuccine
Burgers & Sandwiches
All burgers are prepared on a toasted bun and served with your choice of french fries or sweet potato fries. Any burger can be substituted with a veggie patty.>
The Rookie Burger
$12.99
Half-ground beef patty, lettuce, tomato, red onion, cheddar cheese, and our secret sauce
The Shroom Burger
$13.99
Half-pound beef patty, sautéed mushrooms and onion, Swiss cheese, lettuce, tomato, red onion, and steakhouse mayonnaise
Caprese Burger
$14.99
Half-pound beef patty, fresh mozzarella cheese, spinach, basil, balsamic reduction, and tomato
Chicken Bacon Ranch Burger
$13.99
Lightly breaded chicken breast, bacon, Swiss cheese, lettuce, tomato, and ranch dressing
Texas Leaguer Burger
$13.99
Half-pound beef patty, tomato, lettuce, onion, barbecue ranch dressing, caramelized onion, bacon, and cheddar cheese
Spicy Southwest Cheeseburger
$13.99
Half-pound beef patty, green chili-pepper jack cheese, lettuce, tomato, red onion, and chipotle ranch dressing
Wooster Burger
$12.99
Half-pound beef patty, diced pickle and onion, shredded lettuce, garlic, special sauce, and American cheese
Salmon Burger
$15.99
Grilled salmon, lettuce, tomato, red onion, and lemon-garlic aioli
Prime Time Melt
$14.99
Sliced prime rib, onion, mushrooms, jalapeño, American cheese, and steakhouse mayonnaise on a hoagie bun
Fish Sandwich
Two pieces of battered fish with tartar sauce, shredded iceberg lettuce, and sliced American cheese on a hoagie bun
Burger of the Month
Ask your server about our Burger of the Month
10" Pizza
>
Cheese
$9.99
Mozzarella and Parmesan cheeses
Pepperoni
$10.99
Mozzarella cheese and pepperoni
Hawaiian
$10.99
Mozzarella cheese, ham, and pineapple
Italian
$11.99
Mozzarella cheese, pepperoni, sausage, black olives, pepperoncini, and red onion
Meatza
$12.99
Pepperoni, sausage, bacon, ham, and mozzarella cheese
Chicken Bacon Pizza
$12.99
Grilled chicken, bacon, red onion, and Alfredo sauce
Hot Oven Grinders
Served on a crispy French roll with house-made kettle chips>
Turkey
$11.99
Roasted turkey, shredded lettuce, tomato, mozzarella cheese, and mayonnaise
Italian
$12.99
Ham, pepperoni, shredded lettuce, tomato, pepperoncini, mozzarella cheese, mayonnaise, and Italian dressing
Hawaiian
$11.99
Ham, pineapple, shredded lettuce, mozzarella cheese, and mayonnaise