(360) 588-3600
Rates
Seasonal and subject to change
Arrive/Depart
2PM check-in / Noon checkout
Speed Limit
5 mph (all vehicles)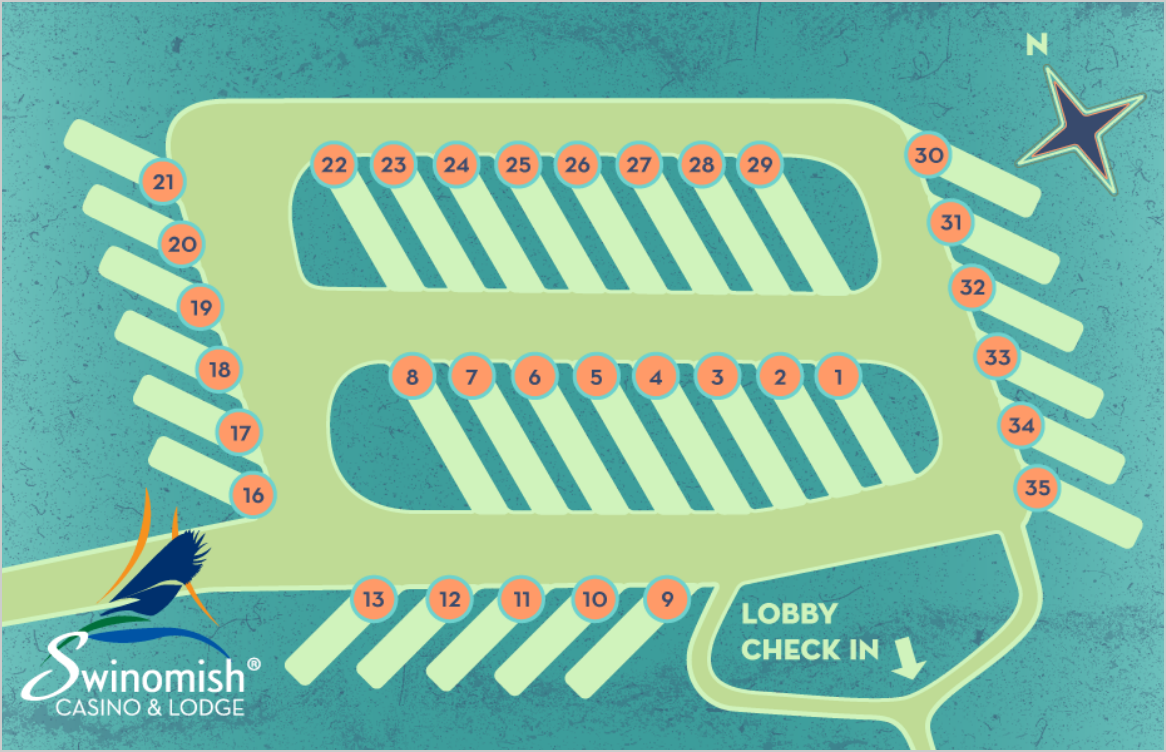 The Swinomish Casino and Lodge features 33 full hook-up RV sites overlooking Padilla Bay, Swinomish Channel with views of Mount Baker and the Cascade Mountains. Just a short drive from Burlington, Mount Vernon, or Oak Harbor.
Swinomish Casino and Lodge hours of operation are from 8:00AM to 2:00AM, Monday through Sunday. Face masks are welcomed but not required for guests and team members. All guests can enter through the Casino or Lodge. RV guests can enter & exit the building to the RV park from Lodge lobby door between hours of 8:00AM to 8:00PM. After 8:00PM the Lodge Lobby door is an exit only and all RV guest must enter through either Casino or Lodge front entrances. Swinomish Casino & Lodge is temporarily smoke-free and vape-free. We encourage all guests to frequently wash or sanitize their hands. Management reserves all rights to update any process and/or protocols as needed.
Reservations are required for both park and overflow. A valid Debit/Credit is required at the time of booking.

To book an RV reservation:
Call 360-588-3600 extension 1
Registration Process:
RV guests will no longer register in person with the Lodge front desk. We have instituted the electronic check in process for our RV guests.
Day of arrival;

RV payments for site plus tax will be processed between 8:00am – 2:00pm with the credit/debit utilized to hold and guarantee the reservation.
An electronic RV permit will be emailed to the registered primary guest between 8:00AM – 2:00PM.

RV Permit includes site number, date of check out, name, RV Park rules and regulations and map.

RV guests can pull directly into site after receiving electronic RV permit.

Guaranteed check in time is 2:00PM

RV checks will be conducted by security.
Receipts will be emailed at checkout.
Swinomish Casino & Lodge ANACORTES, WA

Please Use Contact Form Below or Call for RV Park Rates.
REQUEST RV INFO
Rules & Regulations
Emergency Contact: 360.299.1619
---
Trailer Requirements:
Travel trailers and fifth wheels must have a vehicle that can tow at any given time. Trailers cannot be dropped off and picked up at later time.
Approved Model Types:
Class A (motorhomes), class B (vehicle campers), class C (RVs 20-33 ft.), travel trailers, fifth wheels, toyhaulers, pop-ups, small campers, and sport utility RV trailers.
Class A Motorhomes:
With dual air conditioner units must be in a pull-through site. Class A vehicles that are 35 ft. and under with a single air conditioner unit can be in a back-in site.
General:
Use of facilities is limited to registered guests only.
Reservations are required. Must contact the Lodge front desk.
Children:
Children: Parents are responsible for children ages 12 and under at all times.
Pets:
We welcome pets if kept under control, quiet, and not left unattended. Pets must be kept on a leash at all times and relieved in designated pet areas only. Please pick up after your pets. No animals allowed in any building (except service animals. Must comply with service animal policy).
Parking:
Park in assigned space only. No parking on lawn.
Guests:
All guests must check in at the Lodge front desk. Overnight guests must check in and pay prior to occupying reserved site.
Trash:
Trash must be put in plastic bags, tied, and placed in available dumpsters. Place heavy items directly into dumpster — do not bag.
Additional Vehicles:
Sites are limited to the RV and one vehicle. Any additional vehicles will be subject to a $5 parking permit and asked to park in the overflow lot.
Property Care:
Water of lawns occurs randomly between 11am – 7pm daily. Mowing takes place Tuesdays (weather dependent). Please remove all items off grass that might be damaged by water/mowing upkeep.
No showers/washrooms available. Restrooms are available. Thank you for abiding by these rules. We hope you enjoy your stay!
Prohibited:
Firearms, fireworks (including the Fourth of July), and other lethal weapons
Vehicle or RV washing
Soliciting or business operations
Tents/Tent trailers/Vehicles with Rooftop tents
Major mechanical work
Generators
Fires (Wood fire pits are not allowed. Propane, electric, and charcoal fire pits are allowed on gravel area only. Traeger and charcoal barbeques are allowed.)
Open sewage discharge (pump-out station is available)
Unclean/untidy sites
Sewer hoses without proper end connections
Chemicals in holding tanks
Parking or driving on grass
Carpets or rugs on grass
Alcohol outside RV Park boundaries
Sale of drugs or alcohol
Clotheslines
Class A motors not allowed in back-in sites
Please display permit in driver's side window.
Please respect RV Park boundaries and do not disturb the wildlife. All guests must shut the water off in their RV when leaving their unit. Water flow being left on causes damage to the park's system. RVs must be in good working condition and are subject to management's discretion. All RV exteriors must be in good condition, free from rust. Any RV is subject to management's approval. Swinomish Casino & Lodge assumes no liability for water being shut off by casino staff at any and all RV spaces to resolve repairs needed for the RV Park. Management assumes no liability for loss of or damages to property or for injury to persons or parties arising from the use of its facilities or caused by others while on the premises. Management reserves the right to evict and bar anyone from the premises for violation of park rules or unacceptable conduct.