You're going to fall in love with all the delicious Valentine's Day meals our chefs are cooking up for you and your sweetheart! No matter what you're craving, we've got you covered with a romantic and unforgettable dining experience. From February 13 to February 15, impress that certain someone with any one of these gourmet specials!
13moons Tomahawk for Two: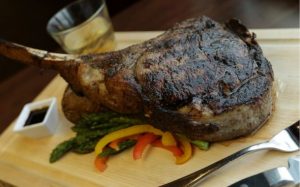 Make the evening one to remember with a Tomahawk Ribeye for Two meal at 13moons! Treat yourselves to a luxurious dinner while enjoying incredible views of the Pacific Northwest. This enticing option features a 32-ounce aged Angus ribeye topped with red wine blue cheese butter, finished with cabernet demi-glace, russet baked potato, and steamed asparagus for $80 per couple. To accompany the main dish, you'll also be served two salads of your choosing: Caesar or house salad.
13moons Four-Course Dinner for Two: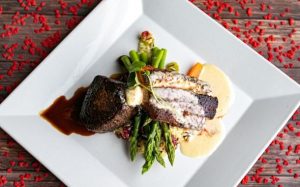 If seafood is more your speed, this option is perfect for you! You're guaranteed to wow your loved one with our Four-Course Dinner for Two at 13moons. This extravagant multi-course meal goes for $160 per couple. Reservations are strongly recommended! Reserve your table by calling us at 360.588.3525. Check out the full menu for this choice down below!
Prosciutto-Wrapped Scallops with Carrot-Ginger Purée
Jumbo sea scallops, cured prosciutto, wilted Swiss chard, candied pecans, fried leeks, balsamic reduction
Apple-Endive Salad with Toasted Hazelnuts
Fuji apple, red and white endive, toasted hazelnuts, aged buttermilk blue cheese, watercress, grain mustard vinaigrette
Aged Angus Filet Mignon with Blackened Lingcod Duo
4-ounce aged Angus filet mignon topped with horseradish-chive butter and cabernet demi-glace, served with 6-ounce Washington lingcod, cranberry wild rice, and steamed asparagus
Chocolate Tower Cake for Two
12-inch chocolate cake, chocolate ganache, strawberry compote, vanilla whipped cream
Surf & Turf Special: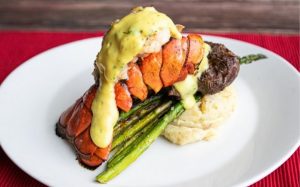 Last but certainly not least, we have our Surf & Turf Special at Swinomish Sports Bar & Grill or Carver's Café! This romantic rendezvous runs for $59.99 per couple and will be served from 11am to 10pm. Take a look at the menu below to find out if this is the option for you!
Soup or Salad
Garden salad or tomato-basil bisque with pesto crostini
Surf & Turf
6-ounce filet mignon and 4-ounce lobster tail served with grilled asparagus and mashed potatoes and topped with béarnaise sauce
Dessert
Raspberry chocolate layered tort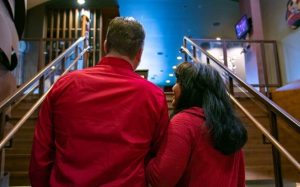 We can't wait to spend Valentine's Day weekend with you! Here's wishing you all the most magical and delicious day of love yet!