New Year's Eve 2024
December 31, 2023 @ 8:00AM - January 01, 2024 @ 3:00AM
Ring in 2024 like Kings and Queens at Swinomish Casino & Lodge! This New Year's Eve, the casino is a castle where everyone can be royalty! Don your most regal attire, topped with a tiara or crown, and whisk yourself away to a kingdom of thrilling gaming, live music, and $96,000 in cash and prizes!
Hot Seat Drawings
We're heating up the palace with Hot Seat Drawings throughout the day! Play using your Signature Rewards card from 8am to 11pm for your chance at up to $2,024 in cash! In addition, each winner will receive some stylish Swin swag.
Place Your Bets
Enjoy a royal reward all day long at the Unibet Sportsbook at Swinomish Lounge! Place a bet on any NFL game at the cashier counter in the lounge to receive $10 in Promo Play!
Wheel Prizes
Whirl your way to a regal win! Earn 1,000 points between 8am and 1pm to receive a single spin on our giant wheel! Shimmering prizes of cash and Promo Play await, with a crown jewel of $2,000 in cash. Spin the wheel once and see what riches await!
Instant Hit Drawings
Score a king-sized prize of Promo Play during Instant Hit Drawings! Earn 250 points, then sit on the throne in front of your favorite slot machine from noon to 4pm. You could win a share of $2,024 in Promo Play!
Earn & Get U-Spin
The royal ball continues with Earn & Get! Rack up points throughout the day, then head to a slot machine between 5pm and 1am to enjoy a U-Spin Bonus!
Earn 5,000 points to win up to $5,000 in Promo Play!
Virtual Game
Ready to step into a palace of Promo Play? Earn 500 points, then head to a Promotional Kiosk between 6pm and 10pm to play a virtual game. You could win up to $2,024 in Promo Play!
Marshall Charloff and the Purple Xperience
BUY TICKETS
Say hello to 2024 by partying like it's 1999 with Marshall Charloff and the Purple Xperience! This top-tier Prince tribute will be reigning in the Wa Walton Event Center beginning at 8pm. Purchase your tickets today at SwinTickets.com or the Lodge front desk.
Truck Giveaway
The fun doesn't stop after the clock strikes midnight! Stay at the ball until 1am on January 1, when we will give one lucky winner a brand-new 2024 truck courtesy of Frontier Ford in Anacortes! Everyone receives one free entry into the drawing. Want to increase your chance of being crowned the winner? Beginning December 1, earn 250 points to receive one entry. There's no limit on entries, so play all month long! Stop by a Promotional Kiosk by 11:59pm each day to submit your entries. Make sure to submit all the entries you've racked up before the New Year begins!
Then, gather on the casino floor at 1am for the drawing! One lucky winner will get to make their new vehicle the finest in the land at Frontier Ford! Head to the dealership and customize to create the car of your dreams up to a $50,000 value. If you are not looking for a new ride, you can enjoy $30,000 in cash instead!
Must be 18 or older to gamble. See the promotion guidelines for additional details. Management reserves all rights. Swinomish Casino & Lodge hours of operation are extended to 3am on January 1, 2024.
Ring in 2024 like royalty at Swinomish Casino & Lodge! This New Year's Eve, the casino is a castle where everyone can be Kings and Queens!
Locals Appreciation 2023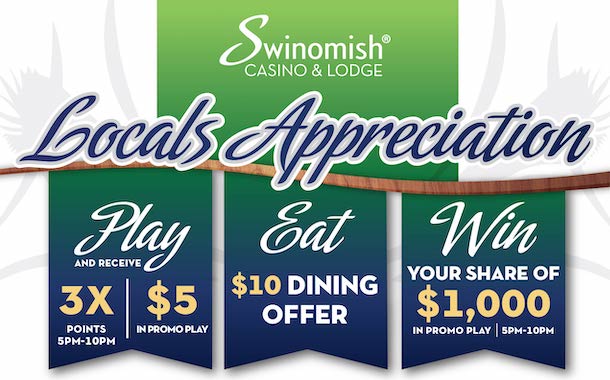 Locals Appreciation 2023
Military Appreciation 2023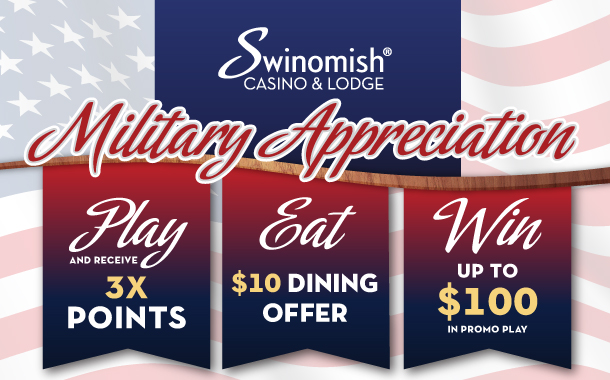 Military Appreciation 2023
Football Dining Specials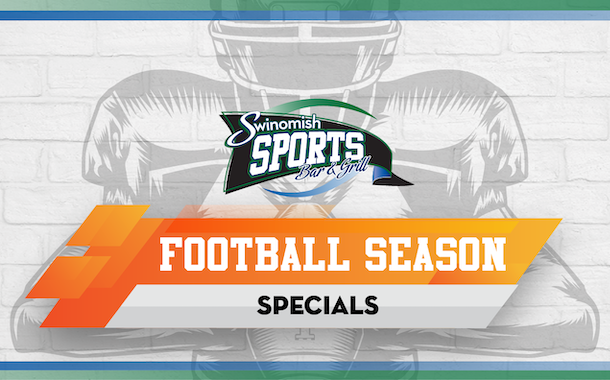 Football Dining Specials