Deception Pass State Park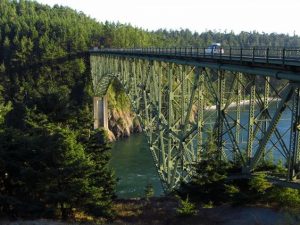 Washington's most visited State Park. Fish, hike, swim, you can do it all here!
Deception Pass State Park spreads over 4,134 acres of Fidalgo and Whidbey Islands. The park features incredible views, hiking trails, camp sites, picnic areas, boat access, lakes and more. This is an adventure seekers dream spot to explore. Take advantage of your current location and go visit this jaw-dropping area.
DIRECTIONS: From Swinomish Casino & Lodge, get on to Highway 20 West. Stay on this route for 2.7 miles until you get to the fork. Turn left on Highway 20 to Oak Harbor. In 4 miles you will reach your destination.