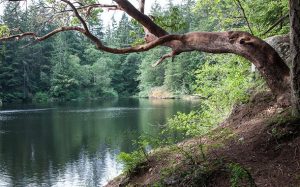 Whistle Lake is a great hiking destination or swimming spot for the warm summer days.
Whistle Lake is a nice 4 mile hike that takes you around the lake on a hiker only trail. The elevation gain on this hike is 580 feet. Whistle lake is very popular on hot summer days. The lake features several cliffs that people enjoy jumping off during the summer time. If you're not the cliff jumping type, the lake also has some smaller shoreside beaches to enter the lake from.
DIRECTIONS: From I-5 in Mount Vernon, take the exit 230 for Hwy 20, signed for Burlington/Anacortes. If you are northbound, stay in the left lane, and turn left onto Hwy 20 west. In 11.4 miles, Hwy 20 splits. The left hand turn lane heads south to Whidbey Island. You will stay straight. At the traffic circle, turn onto Commercial Ave. You will be going south. Follow Commercial to Fidalgo, turn right on Fidalgo. From Fidalgo, turn left onto 'O' Street. Follow 'O' as it winds around through housing. Turn left onto Spradley Road (there will be a sign for Whistle Lake). Turn right onto Whistle Lake Road, then left onto Whistle Lake Terrace.